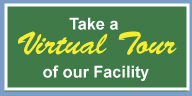 Excellence in veterinary care for the pets of Fern Creek since 1985!  We are open six days a week for your convenience, Monday through Thursday, 7:00 am – 8:00 pm, and Friday and Saturday 7:00 am – 6:00 pm. At our Fern Creek location, we provide personalized veterinary care in a warm, comfortable environment with caring and attentive staff. We are fully accredited by the American Animal Hospital Association. We have the staff, education and hospital to provide all wellness, sick care and emergency care your pet may need.
We are advocates of wellness health care and good diagnostic care throughout your pet's lifetime. We schedule enough time during your pet's appointment for you to bring any questions or concerns you have; we know how important it is to have peace of mind about your pet's health! Check out our MediPet Plus Wellness Plans and see how they will help you keep your best friend healthy.
For more information about Donating to the AVMF please click here!




---
Online Reviews
So happy with the service provided for my Dane, Caesar. He was loved on and cared for just like he is at home. The staff and Doctors were amazing. We will continue bringing our babies here for future needs.

5 stars I feel that all the doctors I have met have my pets utmost interest at heart They make me feel safe when I need to leave my pet in their care.

My piece of mind was well worth the money and the staff was extremely helpful during a very stressful situation.

We found the staff friendly and professional. Techs asked questions, did their necessary business, and explained various tests that were normally recommended for well pet care. They were gentle with our somewhat nervous dog. The vet found our visit to be a break from all the tough cases they dealt with earlier...

Great staff and very friendly and knowledgeable. Love the Vist and felt very comfortable with the staff taking care of my puppies.

We love your office and have been loyal customers since 2005! Our pets have been in good hands every time we come to you for an emergency or a check up. My dogs seem to be excited to see Dr Cheever and enjoy the treats! They may be nervous, but they don't run screaming from any of your staff. I love that you can do later appointments and no extra charge for them.