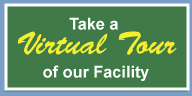 Excellence in veterinary care for the pets of Fern Creek since 1985!  We are open six days a week for your convenience, Monday through Thursday, 7:00 am – 8:00 pm, and Friday and Saturday 7:00 am – 6:00 pm.  At our Fern Creek location, we provide personalized veterinary care in a warm, comfortable environment with caring and attentive staff.  We are fully accredited by the American Animal Hospital Association.  We have the staff, education and hospital to provide all wellness, sick care and emergency care your pet may need.
We are advocates of wellness health care and good diagnostic care throughout your pet's lifetime.  We offer free puppy or kitten exams.  We schedule enough time during your pet's appointment for you to bring any questions or concerns you have; we know how important it is to have peace of mind about your pet's health!  Check out our MediPet Plus Wellness Plans and see how they will help you keep your best friend healthy.
Thank you for considering Jefferson Animal Hospital, Fern Creek, to provide for all of your pet's health care needs.  Please call us if you have any questions or to schedule a free exam for your puppy or kitten.




---